Release info
If Streets Around the World
Unite Hand in Hand
It Will Turn Into a Tremendous Power
「African JAG」vol.1 - African JAG Project -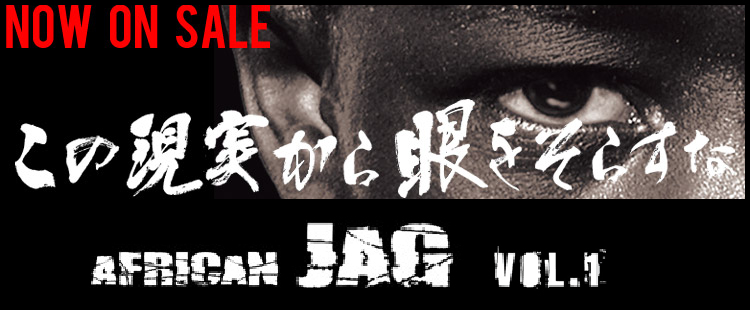 While "jagging" people through creative expressions, JAG PROJECT have been focusing on realities of various global issues, throwing questions. And finally, their long-awaited compilation series is completed!
NOW ON SALE ¥2,500_(tax incl.)
Zap Mama
A solo project of a Zaire-born main vocalist, Marie Daulne. Fled Zaire after war broke out, and took shelter with a Central African Pygmies where she first encounters the "polyphonic" singing she later achieves. Her family eventually made their ways to her father's home country Belgium where she later form the Grammy nominated vocal group Zap Mama. Her latest album released in 2004 made a huge buzz incorporating hiphop, topping the US CMJ charts for weeks.

K'NAAN
A new & promising rapper born in Somalia, and has a background of being an ex-child soldier. He is a natural-born spoken word poet as well, with his extreme talent as a writer & being a grandson of one of the most famous poet in Somalia. He left his country at age of 13 on what turned out to be the last commercial flight to ever do so, and made his way to Canada, where he eventually emerge as a gifted rapper attracting countless amount of people. He had just released his 1st album in summer of 2005.


Sing02
Born in Tokyo in 1975, grew up in Tanzania, UK & Japan, Shingo moved to California, US when he was 15. His style nurtured in such various environments is an expression called "MC" as well as "producer" consisting of multiple spiritualities, cultures, music and art. Recently, he's been pursuing potentials of music from different angles by being involved in various projects such as performing as a member of the band, Kosmic Renaissance, and producing products such as fader boards for Vextax.

DJ KRUSH
Worldly-acclaimed top DJ/producer in Japan. His skillful talent is praised as "turntable wizardry" on stage where he manipulates his decks like live instruments, and has achieved a wide, borderless audience with his production being praised as "virtue of subtraction like a traditional Japanese garden." Has won the Best Electronica Album in AFIM Awards (US) in 2002, and his latest album "jaku" was ranked #1 on the RPM chart of CMJ (US) for 3 weeks. He is one of the original member of the JAG Project.
Themselves
A rap unit consisting of JEL & DOSE ONE, the core members of the US West Coast's leading record label, anticon records. The combination of JEL's progressive sound created by the legendary SP-1200 & the multi-colorful rap style of DOSE ONE giving effective spices has placed their name not only in the underground hiphop scene but clearly on the international music map, performing at various huge festivals around the world.


NUDEJAZZ (DJ KENSEI&KANKAWA)
KANKAWA: Learned under the god of jazz organ Jimmy Smith, he flew to US right after performing at the very first Mt. Fuji Jazz Festival. In Harlem, NY, he formed a band (the first Asian band leader), and in 1991, awarded the "Best Artist of the Year NY" presented by the mayor. He has then collaborated with various jazz big names such as Joe Henderson and David Sanborn. DJ KENSEI: A Japanese DJ/producer constantly progressing to create a unique music style with his sensitive ears & transcending jenres. He is extremely active being a part of countless projects from Kemuri Productions to chari chari, and Kensei & Quietstorm.One of the top creative producers that solo release is long-awaited.
DJ HIDE
A promising Japanese DJ/producer who had just released his 1st solo album in spring of 2005. His inspiration ranges wide from rock, techno to house, and intertwines such essence into hiphop to create a unique, borderless music. He also forms a producer unit "RYU" with KRUSH, and is also one of the original member of the JAG Project.



Mike Ladd
An MC filled with intelligence, a talented producer, and a gifted poet. The true talent of the NY underground scene out of Nuyorican Poets Cafe, constantly throwing messages of reality, and who had also affected mentality of various hometown artists such as El-P (ex-Company Flow).



Supersoul
A unit by Jamaica-born and Miami based, hip-hop-dub virtuoso, Omar Clemetson. For the last decade, his sound has surfaced on countless records and CD's for Liquid Sky Music, Lex Records & others. The self taught producer and engineer (mixing & mastering) has melted together a 3 dimensional blend of twisted beats, sick basslines & mysterious melodies into monster tracks. In 2000, he established his own label, Metatronix, and his mystical yet mechanical production has manifested into the now signature label sound. For the track on this compilation, he teamed up with his latest local buddy, MC Stres.
JUDAH MANSON
A rapper extremely active putting out releases under countless aliases such as Grand Inquisitor. Within Supersoul, one of his main activities, although he is only a featured vocalist, his unique voice and style is indispensable, being described as the verbal counterpart to its beats.



DJ DUCT
While his 1st album "Monkey's Fist" released in Feb 2005 & it's follow-up 12" EP "embodied? e.p." (THINK-03) released in December both thru his own label THINKREC achieving international acclaims, his madly thrilling "one turntable live" using 1 turntable, effectors, foot pedals, a DJ mixer & his original scratch techniques, is currently making a huge buzz amongst the clubland in Japan. A brand new talent receiving all the respect from audience as well as other producers.

INDEN & DJ AGASSI from DOHYO-ORIZIN
A unit by the two core members of the hiphop crew representing west Japan famous for their underground party "Dohyo." Their music, which has strong belief in spoken words as a tool to express the attitude in life rather than just a music jenre, can be called soul as well as hiphop, and gently soak into people's hearts. INDEN has also guested on DJ KRUSH's album "Shinsou ?The message At The Depth."


DJ RISE
A DJ & a producer.
Began his career as a DJ in the 90's from Roppongi & Shinjuku in Tokyo.
In 1996, he moved to US, and began playing at clubs in downtown NY. Currently based in Brooklyn, NY.



Tunde Ayanyemi
A genius drummer born to a drum master father, said to have been performing in front of audience since the age of 2.
In solo as well as with his family group, he performed in various countries.
He is also featured on DJ KRUSH's AFIM Award winning 6th album "Zen."


※ Reproducing all or any part of the contents of this site is prohibited without author's permission.